Bounce Out The Stigma 2020 North Carolina Camp
Registration is Now Open, This Camp has Sold Out in previous years. Register NOW.
Charlotte, NC Special Needs Youth Summer Basketball Camp
June 8-12, 2020
This camp was sold out for the past three years. Please register early.

A Fun Filled Week of Basketball for Boys & Girls, Ages 8-20 who are challenged with Autism, ADD, ADHD, Epilepsy, Downs and other childhood issues. 
Space is Limited, Our Goal is Not to Diminish the Camper Experience or Care by Overcrowding. Please scroll to the bottom of the page to register.
Where: Greater Charlotte Area, North Carolina at Red Venture Corporation
When: June 8 – June 12, 2020 – Daily 9:30 – 2:00 with FREE Lunch Courtesy of Red Ventures in their world-class cafeteria. Each child receives a FREE basketball and camp tee shirt. 
Cost: FREE, but a $40.00 non-refundable deposit is required to reserve your spot.
For Information Please Contact Us at 855-997-3900 or email.
Supported and Underwritten by our 5th Year Corporate Sponsor,  Red Ventures Corporation
Camp will be held at Red Ventures Corporate Facility and State of the Art Basketball Center at 1101 521 Corporate Center Drive Fort Mill, SC 29707 (map with directions) Full cafeteria lunch is being offered (free) to each camper, and there is a Full-Time Nurse on Staff.


Space is limited, so each person is requested to sign up and COMMIT EARLY. This camp has been filled the last 4 years so please guarantee your space by registering early.  If the camp fills, a wait-list will be established.
NOTE: For First Time (non-returning) Campers – A parent or guardian MUST be present for the ENTIRE first day of camp. There are NO exceptions. 
PRE-SCREEN Qualification: If during our interview process certain children with unique circumstances or medical needs may require a parent or guardian to be present during all camp activities. Parents can provide an acceptable "shadow" partner.  
A $30.00 non-refundable registration fee is required to reserve your spot.
Each child gets a free lunch each day, a camp basketball, camp T-shirt and at the end of camp a special merit award. Please scroll to the bottom of the page to register.
This summer once again, we are proud to partner with Red Ventures Corporation to offer a FREE Camp Week is June 11-16. The camp is offered FREE but we require a $40.00 non-refundable registration fee from each camper to reserve your spot. REGISTER NOW AT THE BOTTOM OF THIS PAGE
"Mighty Mike" Simmel and The Bounce Out the Stigma Project manage and run a camp like no other. A truly special camp where all kids can feel truly at ease without the traditional camp pressures. Children discover new skills, new friends and inner confidence on how much they can accomplish when given the opportunity.
A  week of basketball fun and learning for youth with emotional, learning or motor difficulties ages 9-20.
Camp Program:
Each day The Bounce Out the Stigma™ summer program starts at 9:30 am (on court time) until 2:00 pm daily.  We would like to have each group range for about 45 young people maximum co-ed ages 8-20. Because of our small numbers and resources available, we want each camper to receive a lot of individual attention for the time which they are going to be with us, and have a great week with a lot of positive memories. Sessions will be made up of high focus and high-intensity workouts.
Our camper to staff ratio is 4:1 with a full-time nurse available at all times. At the beginning of the week, the children will be put into different squads. Campers will learn some of their activities in a team atmosphere while they have fun meeting new friends in a social setting. They will participate in workshops with drills to develop motor skills and coordination to build confidence and self-esteem.  Our campers will play basketball and learn new drills- to gain knowledge and self-empowerment.
Parents will also have a special session during the week to cover a special topic as well. Every day we will play games and have different contests, with basketball being the primary exercise. There will be breaks in the day for water and medications (if needed and administered ONLY by the camp nurse).  Our volunteer staff will make it their primary effort to serve the needs of each and every camper and give due diligence to each and every one of their needs.
Our camp is one of the few dedicated camps for assisting unique kids with unique needs.
Our kids are special kids with unique needs, never special needs kids. Unlike many camps, kids are encouraged to feel good about their accomplishments and not challenged by what they cannot do. Learn more about our North Carolina Special Needs Basketball Camp sponsored and underwritten by Red Ventures Corporation.
Charlotte Today, NBC News, NC Feature on Bounce Out the Stigma Camps
CBS Feature on Bounce Out the Stigma Basketball Camp in Charlotte
 View of Red Ventures Basketball Court, a First Class Facility Donated by Red Ventures to Bounce Out the Stigma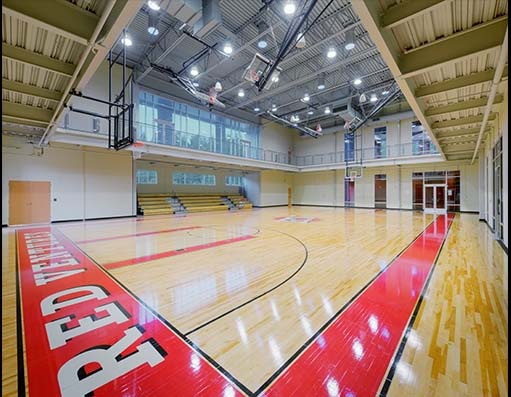 PLEASE NOTE: Each camper will be screened before camp begins to ensure they will have a fantastic experience. This is to make sure they can undergo the rigors of the week ahead of them and be put in the proper group. The camp will be filled with both challenges and fun, but we want to make sure that each child is both physically and emotionally prepared for the tasks involved.
NEVER Peer Pressure, ALWAYS Peer Support.

Bounce Out the Stigma support and fun are always present.

We CHALLENGE, Every Kid to Take Their Best Shot

Excitement happens every day at Bounce Out the Stigma Camp.

TRYING, New Skills is Critical

Our Camps develop self confidence for every child.

SMILES & LAUGHS

Our Camps are about having fun with new friends.

YES YOU CAN, Can Be Heard All the Time!

Our Program shows these kids that they can when others told them you can't so don't try.

ALWAYS a Good Time, While Instilling Self Confidence & Esteem.

Working hard at basketball and enjoying every minute of it.

UNDERSTANDING, Founder and Camper Have Common Issues

Friends are always made at Bounce Out the Stigma Camps

CARING Is Part of Every Camp

Kids know when people care about them.

BUILDING Self-Esteem One Child at a Time

The heart of a champion can be seen at our camps and clinics.

PARTNERS Provide Special Touches to Enhance a Healthy Lifestyle

Bounce Out the Stigma campers receive fun advice on healthy eating

A Child has a Special Need, We Make that Child Feel Special.

Big smiles are always seen at Bounce Out the Stigma Camps
 SPACE IS LIMITED – This Clinic Will Fill Up Fast, Please Register Now, Using This Form
2020 Charlotte, NC REGISTRATION FORM 
Sharing is Caring