Bounce Out The Stigma 2018 Kentucky Camps
Special Needs Youth Summer Basketball Camp
Lexington & Louisville, Kentucky
 Two 2 Day Sessions. July 24 – 27

2 Fun Filled 2 Day Sessions of Basketball for Boys & Girls, Ages 8-21 who are challenged with Epilepsy Autism Spectrum Disorders. 
Our  4th Year in Kentucky In Partnership with the Epilepsy Foundation of Kentuckiana 
Where: Locations TBA Shortly
When: July 24-27  – Daily 9:00 – 2:00  
July 24-25   Two Full Days in Louisville. KY
July 26-27   Two  Full Days in Lexington, KY
Focus: Key focus is building self-confidence, motor skill development, and interaction with peers. Our ratio of staff to camper is 4:1 and at times 1 on 1 development is done daily. We encourage parents to stay and watch, see what your child is accomplishing and watch them smile, laugh and yes sometimes cry. But don't worry every kid will have a unique, rewarding and life-altering experience.
Cost:  This camp is FREE to all children. Note: Space is limited -Please guarantee your space by registering early.  If the camp fills, a wait-list will be established.
Register: Contact Epilepsy Foundation of Kentuckiana at 866-275-1078 or contact us at 855-998-3600 or  Register Now, With Our PRE- Registration Form Provided Below→
Every child receives a Special Basketball, Camp T-Shirt, and a camp award.
"Kentucky Colonel Mighty Mike" Simmel  and The Bounce Out the Stigma Project manage  and run a camp like no other. A truly special camp where all kids can feel truly at ease without the traditional camp pressures. Children discover new skills, new friends and an inner confidence on how much they can accomplish when given the opportunity. We are pleased to be returning to Kentucky and partner with the Epilepsy Foundation of Kentuckiana.
NEVER Peer Pressure, ALWAYS Peer Support.

Bounce Out the Stigma support and fun are always present.

We CHALLENGE, Every Kid to Take Their Best Shot

Excitement happens every day at Bounce Out the Stigma Camp.

TRYING, New Skills is Critical

Our Camps develop self confidence for every child.

SMILES & LAUGHS

Our Camps are about having fun with new friends.

YES YOU CAN, Can Be Heard All the Time!

Our Program shows these kids that they can when others told them you can't so don't try.

ALWAYS a Good Time, While Instilling Self Confidence & Esteem.

Working hard at basketball and enjoying every minute of it.

UNDERSTANDING, Founder and Camper Have Common Issues

Friends are always made at Bounce Out the Stigma Camps

CARING Is Part of Every Camp

Kids know when people care about them.

BUILDING Self-Esteem One Child at a Time

The heart of a champion can be seen at our camps and clinics.

PARTNERS Provide Special Touches to Enhance a Healthy Lifestyle

Bounce Out the Stigma campers receive fun advice on healthy eating

A Child has a Special Need, We Make that Child Feel Special.

Big smiles are always seen at Bounce Out the Stigma Camps
Camp Program:
Each day The Bounce Out the Stigma™ special needs basketball camp in Kentucky at starts at 9:o0am (on court time) until 2:00 pm daily. In Kentucky, we will have two different sessions 2- Day Sessions one in Lexington and one in Louisville, Kentucky.
 We would like to have each group range for about 45 young people maximum co-ed ages 8-21. Because of our small numbers and resources available, we want each camper to receive a lot of individual attention for the time which they are going to be with us, and have a great week with allot of positive memories. Sessions will be made up of high focus and high-intensity workouts. This is a camp for special needs children the intensity of activity is geared to special needs.
Our camper to staff ratio is 4:1 with a full-time nurse available at all times. At the beginning of the week, the children will be put into different squads. Campers will learn some of their activities in a team atmosphere while they have fun meeting new friends in a social setting. They will participate in workshops with drills to develop motor skills and coordination to build confidence and self-esteem.  Our campers will play basketball and learn new drills- to gain knowledge and self-empowerment.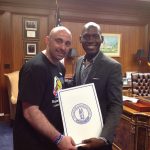 In 2014 Mighty Mike Simmel proudly and humbly accepted the award of an Honorary Kentucky Colonel by Governor Steve Beshear's Office. 
We encourage parents to view our video page and camp page to learn more.
 PLEASE NOTE: Each camper will be screened before camp begins to ensure they will have a fantastic experience. This is to make sure they can undergo the rigors of the week ahead of them and be put in the proper group. The camp will be filled with both challenges and fun, but we want to make sure that each child is both physically and emotionally prepared for the tasks involved.
REGISTER NOW
Sharing is Caring